on Tue Jan 09, 2018 1:57 pm
Hello bRO!
This is a basic guide for new player to find npc around bRO midgard~
Here I will list every custom npc, their location, and their function.
Start from our main city, prontera:
1. All in one trader

This cat is a main vendor in our server. It has a lot of variety of goods that you can choose for. From the simple healing item, weapon, special poison, and many more!
Be sure to visit him before going on an adventure to stock your item!
He only stay at prontera.
2. Kafra

Who doesn't know the Kafra corp. in Rune Midgard? They help player store their item and equipment in the storage, and can save their respawn position.
Kafra is available at every major city!
3. Warper
This valkyrie can help adventurer go to their desired location in and instant, and free!
Warper available at every major city!
4. Healer

This little girl can heal your wound and fill your SP for free! but if you want her to buff you, you can pay her 1500 Z for normal buff and 200.000 Z for 1 hour buff!
Healer available at every major city!
5. E-inquiry

This charleston copy robot can send your message to BdgRO staff. so be sure to fill in any suggestion, if you find bug in game, or if you want us to get specific content installed in our server!
6. Universal rental npc

She is the master of rental, you can rental cart, falcon, warg, dragon, mado gear!
7. Vending machine
Here we have little vending machine, it sells some helpfull item to get you started leveling!
8. Mission a

This grandpa sometimes will have unique quest for you adventurer! but we won't tell you when or what the quest is, so keep checking him every day!
9. Quest shop

This is our master crafter, she can make you lots of usefull and cute headgear for use! just collect the item needed to make it, and you will have new item in your disposal!
She doesn't just craft headgear, she have some weapon, armor and accessories to craft too!
10. Identifier

As the name suggest, she can identify all your unidentified item in your inventory for a fee!
No need to magnify your item one by one anymore!
11. WoE Information
This is simply an information board to help you check when is the next WoE. and when WoE is ongoing, it will shine and you can instantly teleport to the front gate of the contested castle!
12. Stylist

You can change your hairstyle, haircolor, cloth color with this NPC!
13. Gym Trainer
Carrying too much item? your weight limit isn't enough for your taste? Don't worry! Train with him to increase your max weight limit, but you need the Gym Pass Ticket to do so.
14. 3rd Job Cloth Changer

Here we have a Cloth Changer to change your basic job sprite, into the jRO one. Unfortunately, Rune Knight doesn't supported yet. and the dye kinda messed up. will update soon!
15. Premium Agent

He is the agent that can only be used by premium player. They have similar buff like the 200.000 Z healer buff, with extra food buff that last for 1 hour for free!
16. Repairman
You can instantly repair all your broken item here, for a fee of course!
17. Guild Storage
Here you can store your excess item and let your guildmates use it! you can set the restriction too, if you don't trust new guildmates yet.
18. Event Information

Here you can read the daily/hourly auto event that our server have.
19. Disguse Npc
This is one of the daily auto event npc, be sure to visit him every hour to get some poring coin!
Just type what is the name of the monster he disguised, and win the coin!
20. Mvp Ladder Warper
This is an arena where you and two of your friend can participate to kill wave of MVP monster!
The entrance fee is 5000 Cash Points, and you can only participate if there is exactly 3 people in the party.
The MVP drop their weapon and exp too, so it is best place to farm for their cards!
But beware, when all your party died. you will be automatically kicked out from the arena.
21. Event Shop

She is the collector of poring coin, bring her your poring coin to trade with unique item that can only obtained from her!
22. Arena Master
You love PvP? You love killing other player?! This is the place! pit yourself against other player and kill each other!
You can gain 1 cash point for every kill. but don't forget this, every kill get you a bounty in your head. so the more you kill, the more other player that kill you get the point!
that point can be exchanged with some godly item in this NPC too!
23. Hunting Quest

Bored of the same grinding everytime? Don't worry, here we have the sollution for you!
She will give you some quest to hunt monster, and after you kill the monster come back to her for hunting point!
You need to rest for two hour before you can accept another quest from her.
That point can be exchanged with a costume item, and some of them can be enchanted too!
24. Custom Costume Enchanter
This is our trademark special enchanter.
Every costume item with the Enchantable Seal, can be enchanted in this trio NPC.
Enchantable Seal is like this: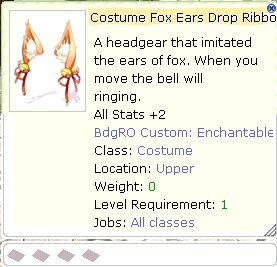 The more you enchant the costume, the more powerfull its enchantment!
You can get the costume and enchantment ticket from the Hunting Quest NPC.
25. Platinum Skill NPC
She can give you the platinum skill for free and without to do any quest!
26. Third Job Item Giver

Since every third job get their respective headgear after the job change quest, we instead give you the chance to obtain it freely after you change into third job!
27. Job Master

Here you can choose your job and change it after you reach the base level and job level requirement.
on Tue Jan 09, 2018 2:21 pm
on Tue Jan 09, 2018 2:21 pm

Permissions in this forum:
You
cannot
reply to topics in this forum